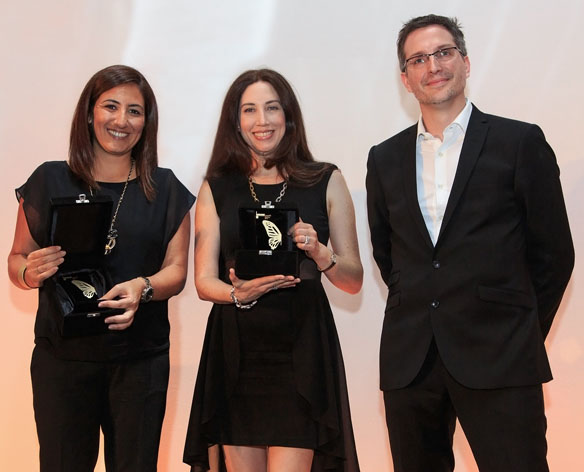 BrandAid wins gold for Best Visual Identity in Healthcare
BrandAid's work on the branding project of Fakih IVF was awarded GOLD at Transform Awards MENA 2015. This achievement at the awards recognizes BrandAid's excellence in branding and brand development.
Randa Modad, Founder and Brand Consultant at BrandAid, said: "We are honored and delighted that our work was recognized and rewarded. This should generate more interest from the healthcare sector, where quality branding is desperately needed – especially in the UAE. It is not a matter of creating a logo and choosing some colors. It is about creating your reputation by developing a brand strategy that can give you direction across all communication and business decisions."
Dr. Michael Fakih said: "After rebranding, we felt the fast pace at which Fakih IVF was growing. Without the new brand strategy and brand identity, it would have taken us many years to reach where we are today. I can definitely say that Randa Modad and her team had given us a fantastic brand that is 10 years ahead of this market."
The awards continue to consistently set a stronger benchmark whilst reflecting the growing significance of brand in the wider corporate communications strategy. The corporate brand – and its implementation, positioning and creativity – has become one of the most valuable assets a business owns.
The Transform Awards has been running for the past six years in Europe, establishing itself last year in the Middle East North Africa and Asia-Pacific regions. This year the awards have reached more countries than ever before in the MENA region, and has become a prestigious benchmark of those leading the way in both creative and strategic branding.
Jessica Crumbleholme, publishing executive of Transform magazine, says, "We congratulate all of this year's winners, those who truly understand the need for a sustainable, personable and conscientious brand and brand strategy. The awards verify that there has been a shift in brand development and we are proud to benchmark the excellence that has come from the MENA region. All the winners of the Transform Awards MENA should be proud of their fantastic achievements in rebranding, brand development and brand strategy. They are the heroes of the branding world, and we applaud them!"
-Ends-
About BrandAid
BrandAid, an award winning medical brand consultancy in UAE, offers top-notch branding and marketing expertise for the healthcare sector. Its mission is to work with the best medical practices and bring them to the No. 1 position in their specialty. With extensive hands-on experience in healthcare branding and marketing, BrandAid helps medical practices grow beyond their expectations. Having learned a lot about what makes a company thrive, BrandAid can impact a medical business at a much deeper level than anyone else in the market. One of their prominent brands has been Fakih IVF, which became No.1 in just 18 months.